2020 Tickets On Sale Now
In 2019 we sold out of every last ticket during pre-registration. There were quite a few people that waited until the last minute and ended up missing out as no tickets were sold at the door either. The venue has a maximum capacity and we have to have a HARD cut off. So this year we will be staggering the ticket sales starting on September 1st, 2019. At that time we will open up ONLY the 4-Day Full Weekend passes. From there if tickets are still left, we will open up the 3 day passes October 1st. Then the 2 day Sat/Sun passes on October 15th. Finally if there are still any tickets left... we will open up the one-day badges. This gives everyone who plans to come for the whole event an entire month of early registration before the passes get eaten up by one day attendees.
We highly recommend if you are not on our mailing list... sign up right here so you don't miss the communications of ticket opening.
If you previously registered for any of the last 3 years events, you will receive communications about this years sale date... BUT only the email used to register will be used. If you have friends you want to make sure get notices, please send them here and have them register for updates as well.
Ticket Registration Dates Starting On...
September 1st : 4 Day Passes (Full Event) on sale now !
October 1st : 3 Day Passes (Fri-Sun) on sale now !
October 15th : 2 Day Passes (Sat-Sun) on sale now
November 1st : One Day Passes (Thur or Fri or Sat or Sun) go on sale if any spots remain
2020 Ticket Costs
4 Day Pass: $65
3 Day Pass: $60
Saturday & Sunday Combo: $55
Saturday ONLY Pass: $35
Thursday, OR Friday, OR Sunday One Day Pass: $30
4 Day Passes Opened Up on SEPTEMBER 1st. Set a reminder. Join our mailing list. Watch your email. Don't miss out on the best 4 days of open gaming around !
Check Out the 2019 Photo Gallery
Click Here to view the new photos from this years event !
Bring N Buy : Sell More - Buy More
Due to the great success of previous years game market, we are keeping the INCREASED number of items each seller can offer at the "Bring n' Buy" event on Saturday. You may now bring up to 25 games for sale. You will still need to fill out a "seller registration form" AND an "item form" for each one and they can be found on the bring n buy page. Games for sale should be kept in your room or vehicle until Saturday morning as there is very little room for storage prior to the Saturday sales event.
Open Gaming Convention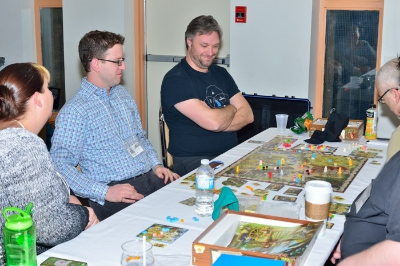 Everyone knows the best part about any con is the open gaming... countless hours of play, hundreds of games, a huge community of friendly people waiting for you to join them at the table. These are not just your grandma's old parcheesi boards... NBW opens its doors Thursday morning at 9:00am and runs through Sunday, 6:00pm (some folks like to arrive on Wednesday night to get a little extra gaming in, either in their room or at the Crux. ) NBW is a friendly gathering of 200 to 300 gamers playing euro-games, war-games, heavy theme, cube pushers, social deduction, fillers, new releases, and gaming classics. There are no schedules or events to book, the whole convention is open/pickup gaming... and it really does pick up ! Start Wednesday night to hit the town, meet old or new friends, go grab a dinner at the Falls... and be ready to jump right in Thursday morning.
Gaming... Northern Style
You don't want to miss 4+ days of gaming in one of the most beautiful cities in the world. Niagara Falls, Ontario Canada. Book your stay, buy your pass, and game all weekend... you can even take a break to visit the scenic Niagara Falls, only a short cab ride from the hotel.
Niagara Boardgaming Weekend...
Amazingly affordable one day, weekend, or full convention passes
Stay right in the hotel you will play in, no travel required at all
Meet a group of gamers you will know by name
It's like a mini-version of the Origins CABS board room with a fraction of the cost and all the fun