NBW Event Ticket 2023
Each ticket is good for ONE attendee for the days purchased. If you wish to register multiple people, simply add this registration to your cart and return to this page to add another person. Did you buy a ticket last year that you are carrying over? Check on your last years ticket status here
COVID PROTOCOLS 2023
NBW will maintain a strict policy for attendence which must be agreed to in order to attend. While changes to policies may shift over time, the current policy requirements can be found here
2023 : TICKET OPTIONS
Due to the changes to capacity restrictions and the overhead involved in managing access... all tickets will be sold as 3 Day or 4 Day passes only. This means EVERYONE can attend Friday thru Sunday and if you are all about the gaming... grab the Full Pass to add in Thursday.
BADGE ICONS...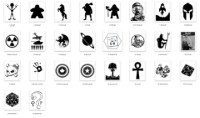 This year we will have fun graphics on each badge to let your character shine. Click on the thumbnail picture here to see all the choices (will open in a new window). Once you find the one you like, select it from the dropdown list for your ticket below. If you do not choose one, one will be picked at random when we go to print them.
Refunds :
Refunds will only be issued if requested by email (contact us page) if received NO LATER than 11:59 PM EST 2 weeks prior to the event on Wednesday January 18th, 2023. Due to payment requirements with the venue, NO REFUNDS WILL BE ISSUED AFTER THIS DATE.