NBW Event Ticket 2020
Each ticket is good for ONE attendee for the days purchased. If you wish to register multiple people, simply add this registration to your cart and return to this page to add another person.
NEW FOR 2020 : TICKET SALES CHANGE
Due to selling out very fast last year we are staggering the availabilty of the passes starting with the full event passes and opening up the shorter passes if we do not sell out before. There were many full event attendees that could not come last year because we had reached capacity for the venue on only ONE of the days due to single day sales but the 4 day pass requires us to be under capacity for all days eligible. For this reason we are giving the longer pass tickets first priority and will open up the shorter ones on the schedule below if is still room. Check back on this page on or after the dates below and the new options will be available.
Sept 1st: Full Event (4 Day Passes - Thurs to Sun)
Oct 1st: 3 Day Passes (Fri to Sun)
Oct 15th: Weekend Only (Sat and Sun)
Nov 1st: Single Day Passes (Thurs, Fri, Sat, Sun)
BADGE ICONS...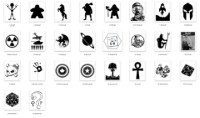 This year we will have fun graphics on each badge to let your character shine. Click on the thumbnail picture here to see all the choices (will open in a new window). Once you find the one you like, select it from the dropdown list for your ticket below. If you do not choose one, one will be picked at random when we go to print them.
BRING A BUDDY DISCOUNT : If you register for a "3 Day" or "Full Event" pass and bring FIRST TIME FRIENDS (they have not attended in 2017 or 2018) and they ALSO get the "3 Day" or "Full Event" passes, the FIRST ONE friend will refund you $5. The SECOND ONE will refund you $5 more. The THIRD one will refund you $20 more. Meaning if you bring 3 new attendees for the weekend or whole event... you save $30 yourself. In order to qualify for the BRING A BUDDY, you MUST add all the passes into your cart now and checkout together in one order. Once the attendees are verified new, you will get a refund issued to your order for the amount earned from the BUDDY DISCOUNT. Start by adding your pass to the cart, then hit the button to add your first guest, etc. Repeat. Once all of you are in the cart, simply check out online.
Refunds :
Refunds will only be issued if requested by email (contact us page) if received NO LATER than 11:59 PM EST 2 weeks prior to the event on Wednesday January 8th, 2020. Due to payment requirements with the venue, NO REFUNDS WILL BE ISSUED AFTER THIS DATE.